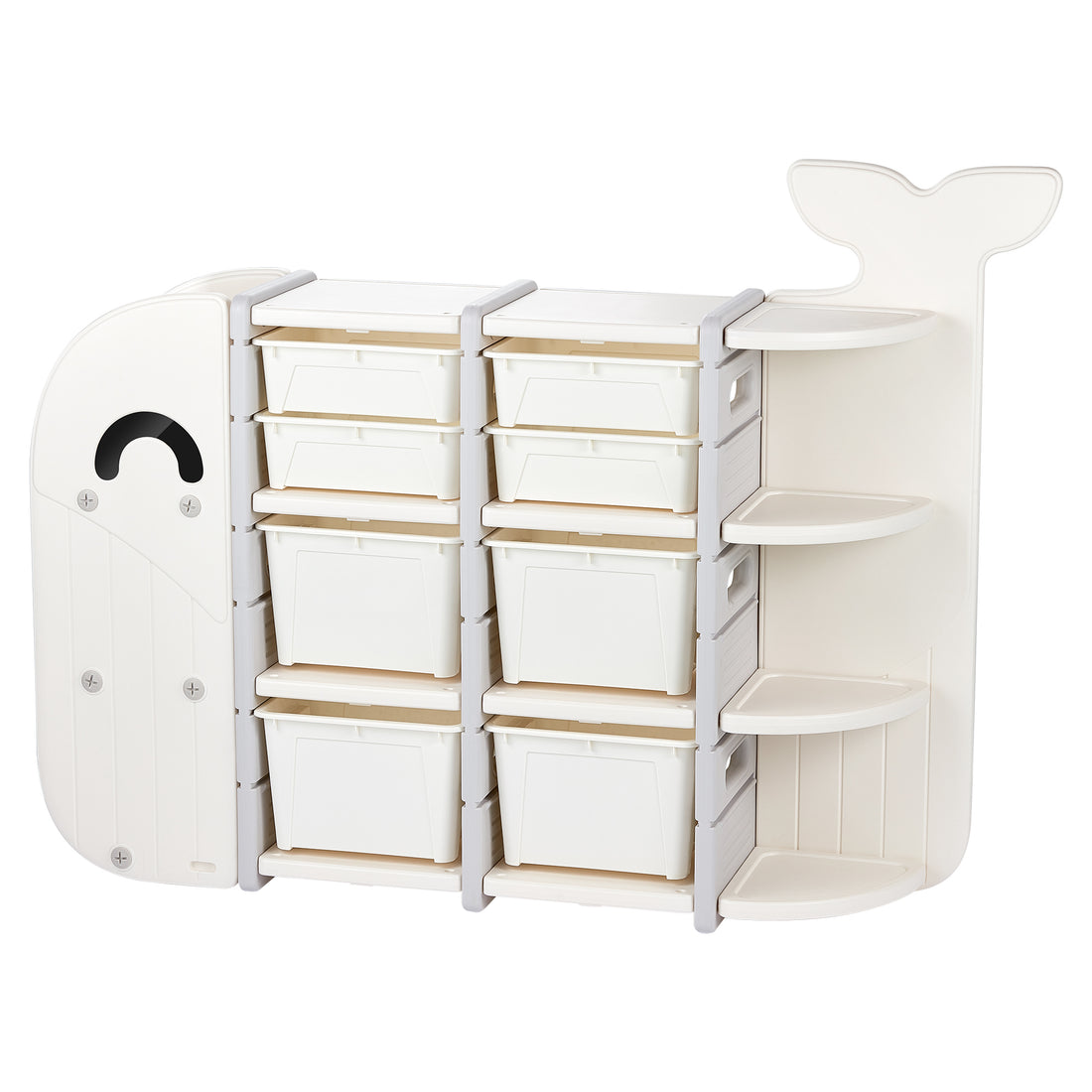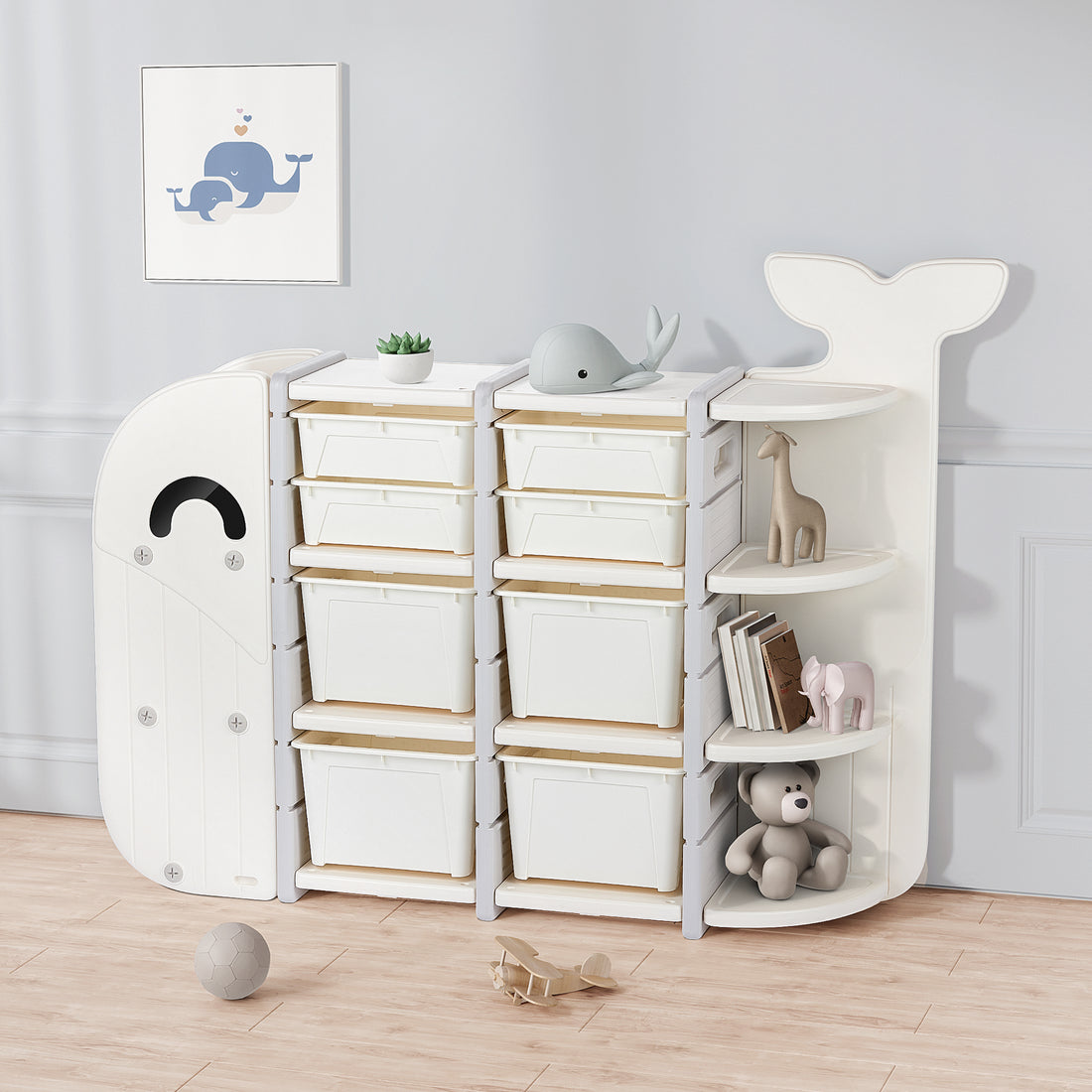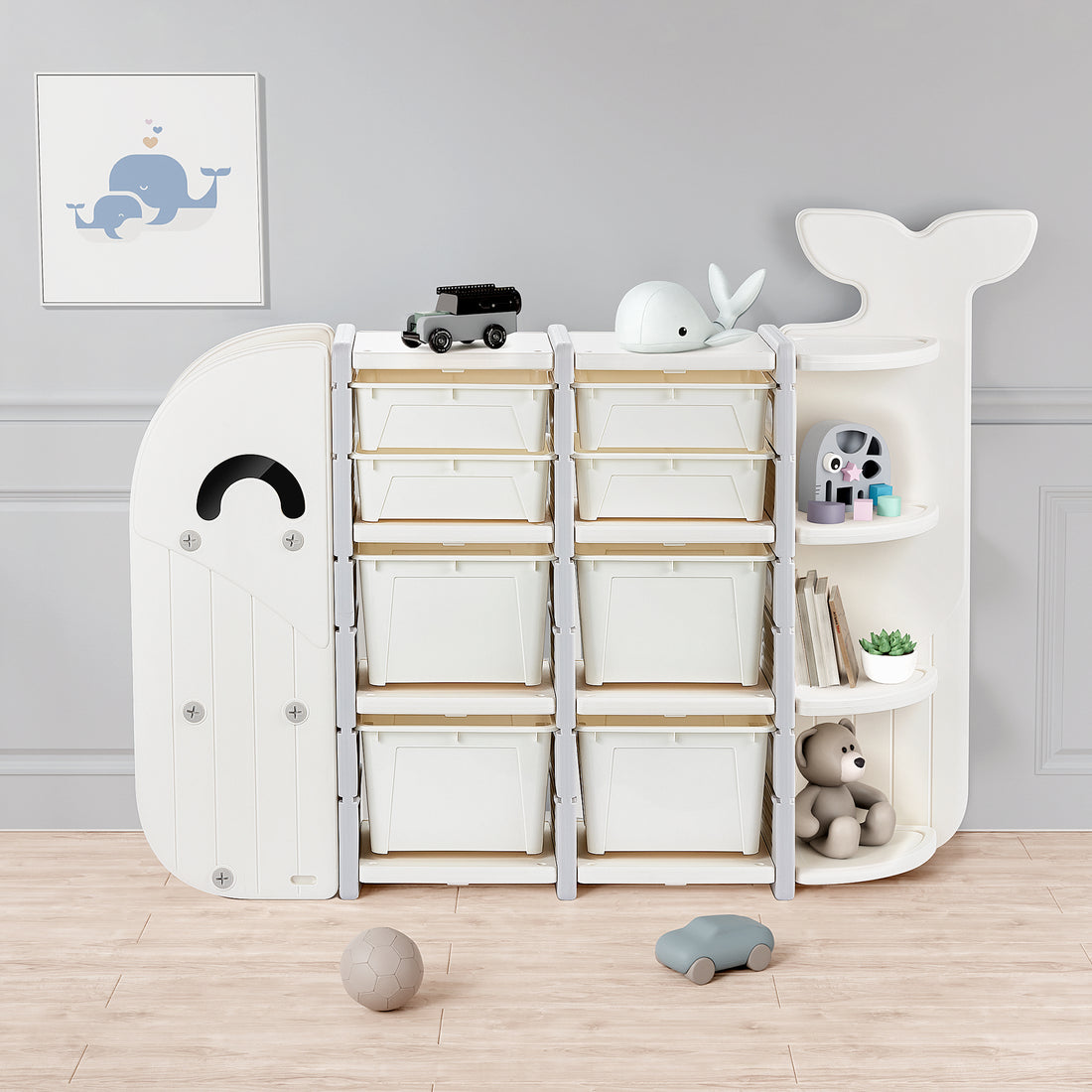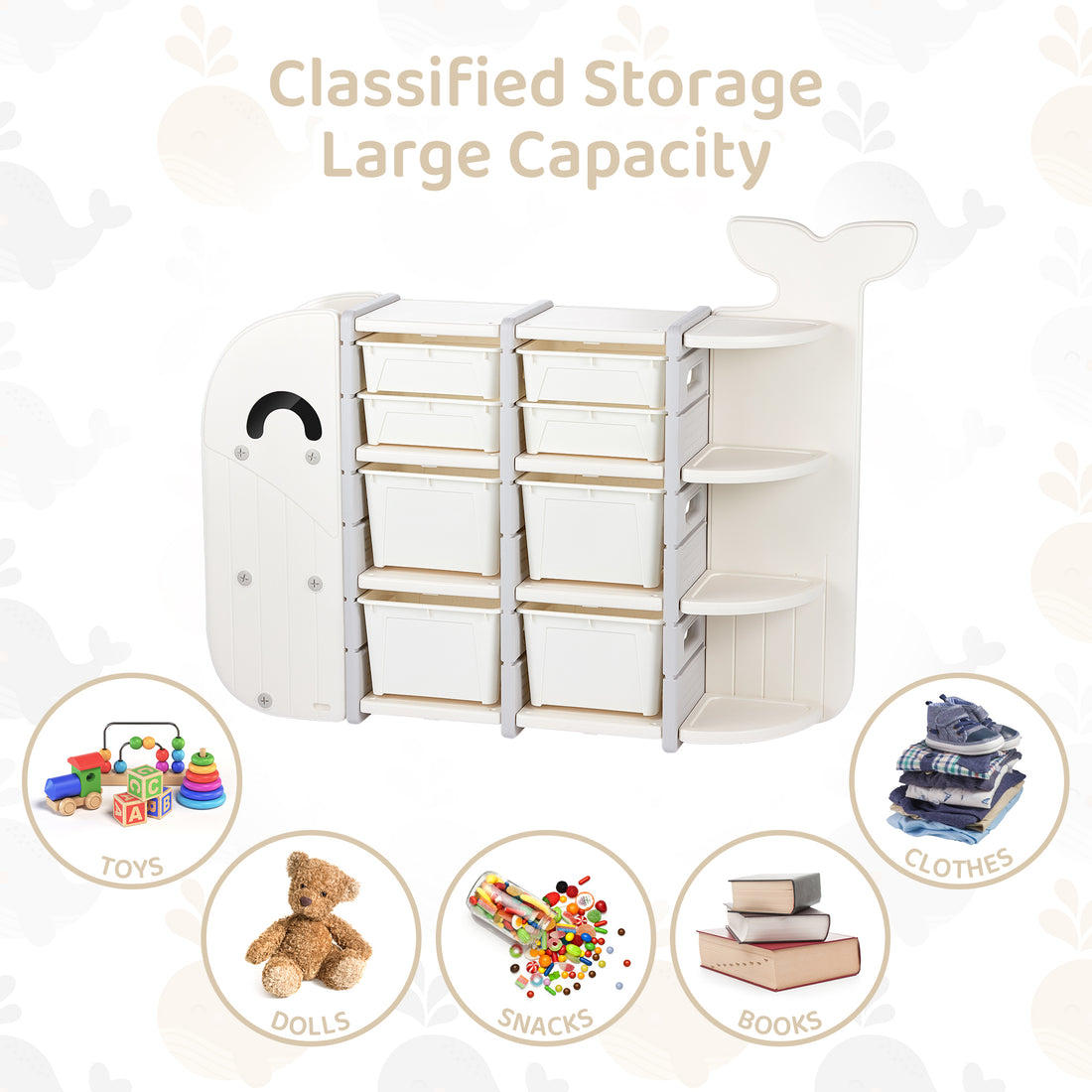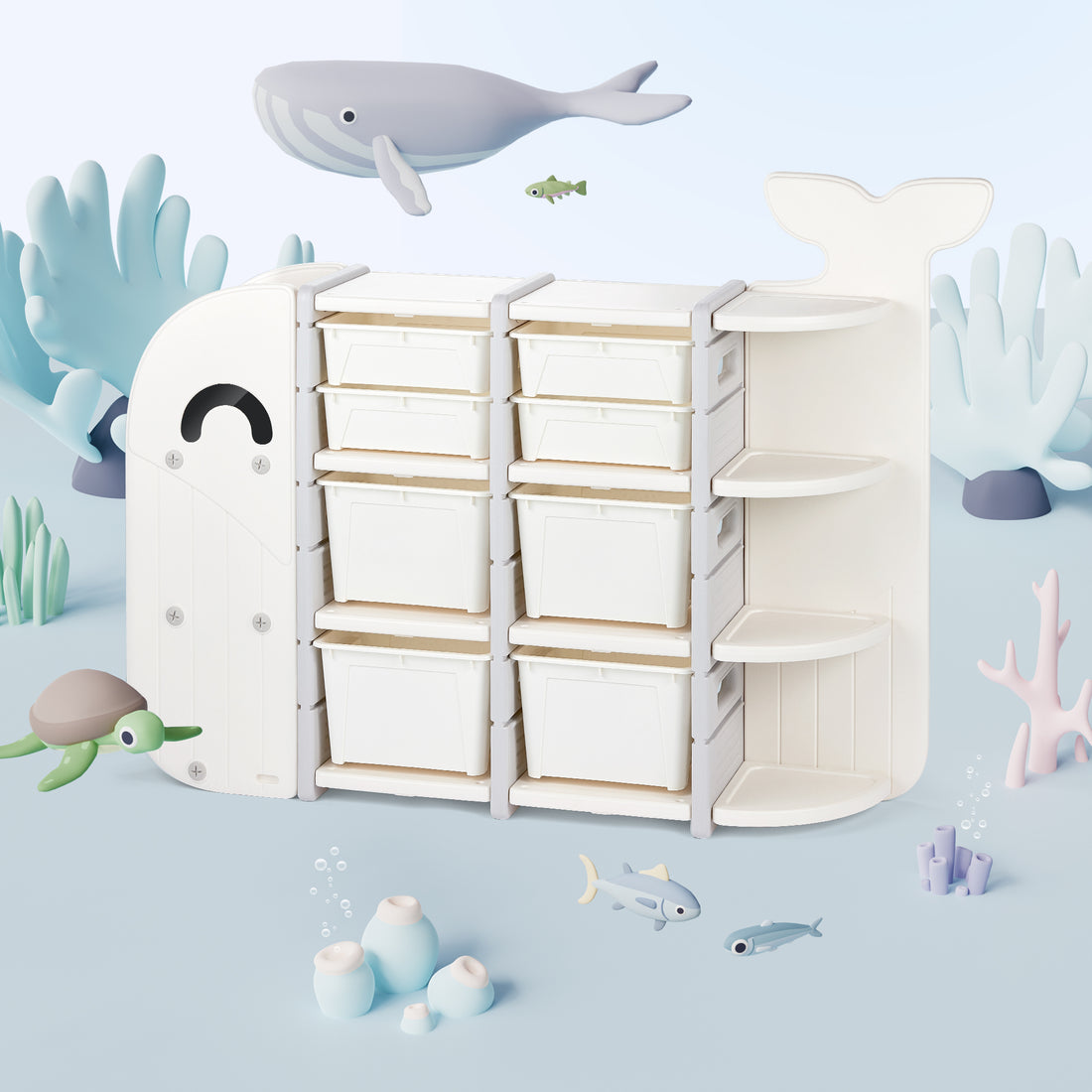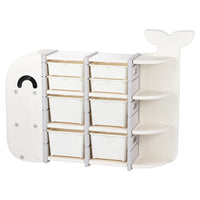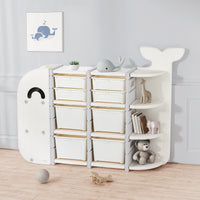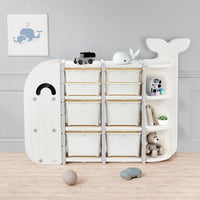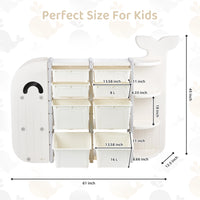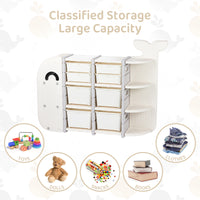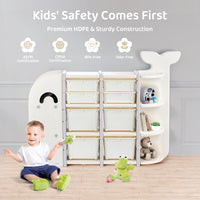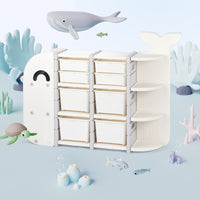 DUKE BABY Kids Large 4 Layer Toy Storage Organizer with 8 Storage Bins and Display Bookshelves for Kids Playroom Bedrooms Age 1-12, Whale Collection White
Got too many toys and presents from the holiday season? Don't worry. DUKE BABY kid's large storage organizer cabinet is here to help you collect and organize all the mess! DUKE BABY Kids Large 4 Layer Toy Storage Organizer comes with 8 pull-out storage bins of two sizes and three layers of display shelves and bookshelves. It's designed as a cute whale shape that kids will be attracted to. The white-and-grey color is sleek and clean that fits all kinds of home décor styles. The DUKE BABY multipurpose toy cabinets are made of non-toxic thick HDPE materials with a smooth surface and are certified by ASTM and CPSIA. It's easy to assemble with no extra tools required. Make every clean-up time with your toddlers an enjoyable memory!
MULTIFUNCTION STORAGE WITH LARGE CAPACITY - The DUKE BABY large 4-layer toy storage organizer consists of 4 large pull-out bins, 4 small bins, half-covered bookshelves, and display shelves that collect all kinds of toddler toys books, and gear. It is perfect for kids to learn classification and clean up independently.
ASTM AND CPSIA CERTIFIED SAFE AND DURABLE MATERIALS – the toddler toy cabinet is made of non-toxic thick HDPE materials that are BPA-free and odorless. And the sleek edges and rounded corners minimize the risk of bumping or scratching. The durable high-quality material lasts longer so that the toy storage could accompany your family longer from baby to toddler.
EASY ACCESS TO KIDS AND EASY TO KEEP TIDY – The DUKE BABY toddler toy storage organization system has four different sizes and styles to fit your family's needs. The pull-out drawer design hides away all the stuff to look tidy on the outside. The different sizes of drawers can fit different types of toys and kids' gear. It is the perfect cabinet for playrooms, study rooms, bedrooms, and living rooms.
EASY TO INSTALL AND CLEAN - No additional tools are required when assembling the DUKE BABY kids toy storage organizer. The assembly is easy and hands on with clear instructions. The toy cabinet is easy to clean with damp wipes.


Product Material: HDPE
The Toy Storage Organizer Assembling Size: 61" x 12.5" x 45"
Size Options: Small (3 layers) / Large (4 layers)
Check the dimension carefully before purchasing.
Suggestion: Put heavier things on the lower layers and lighter things on the top layers so that the whole cabinet does not get heavy-headed.
Check the structure regularly for continual stability.
Adult supervision is suggested when kids are playing around the cabinet to avoid bumping or pushing.