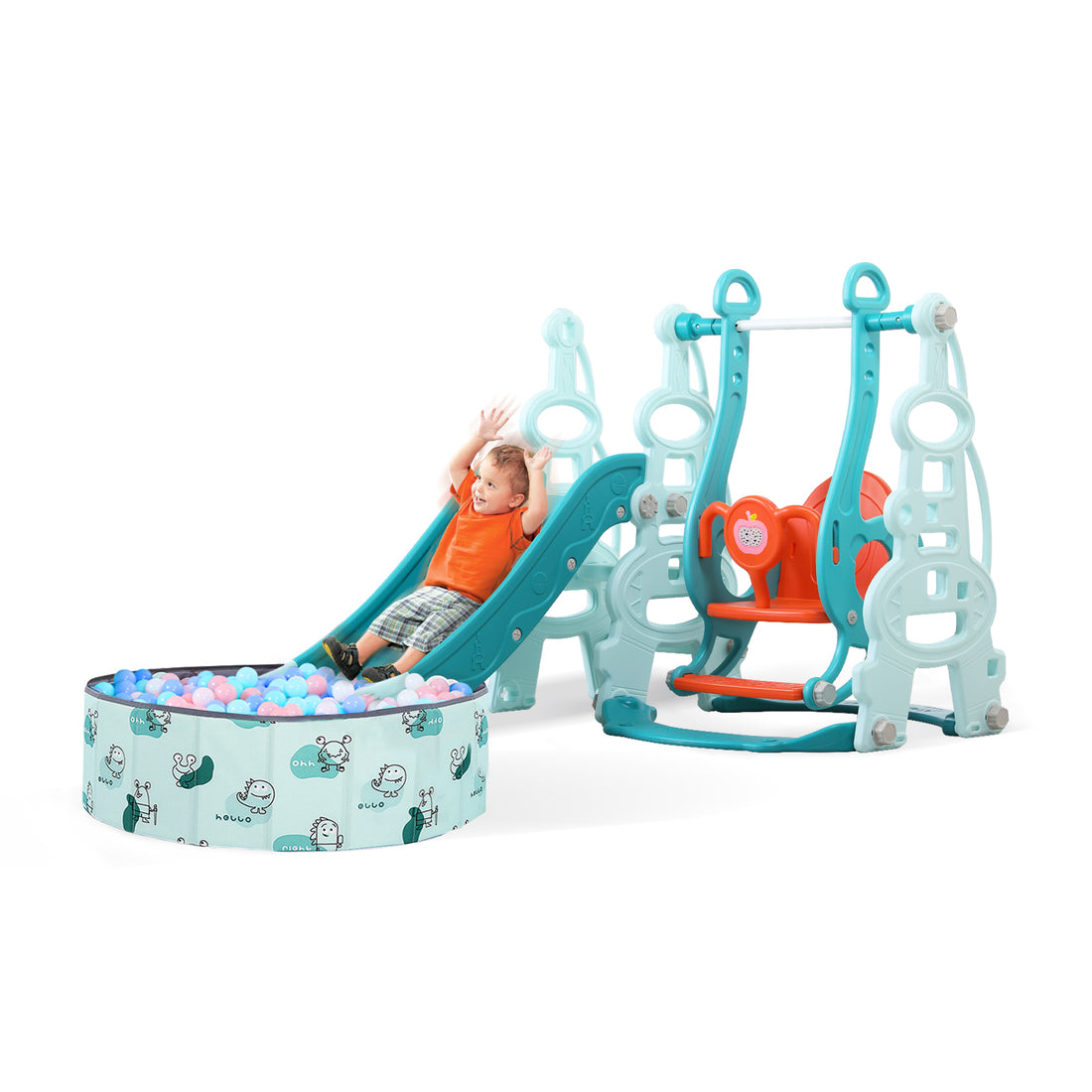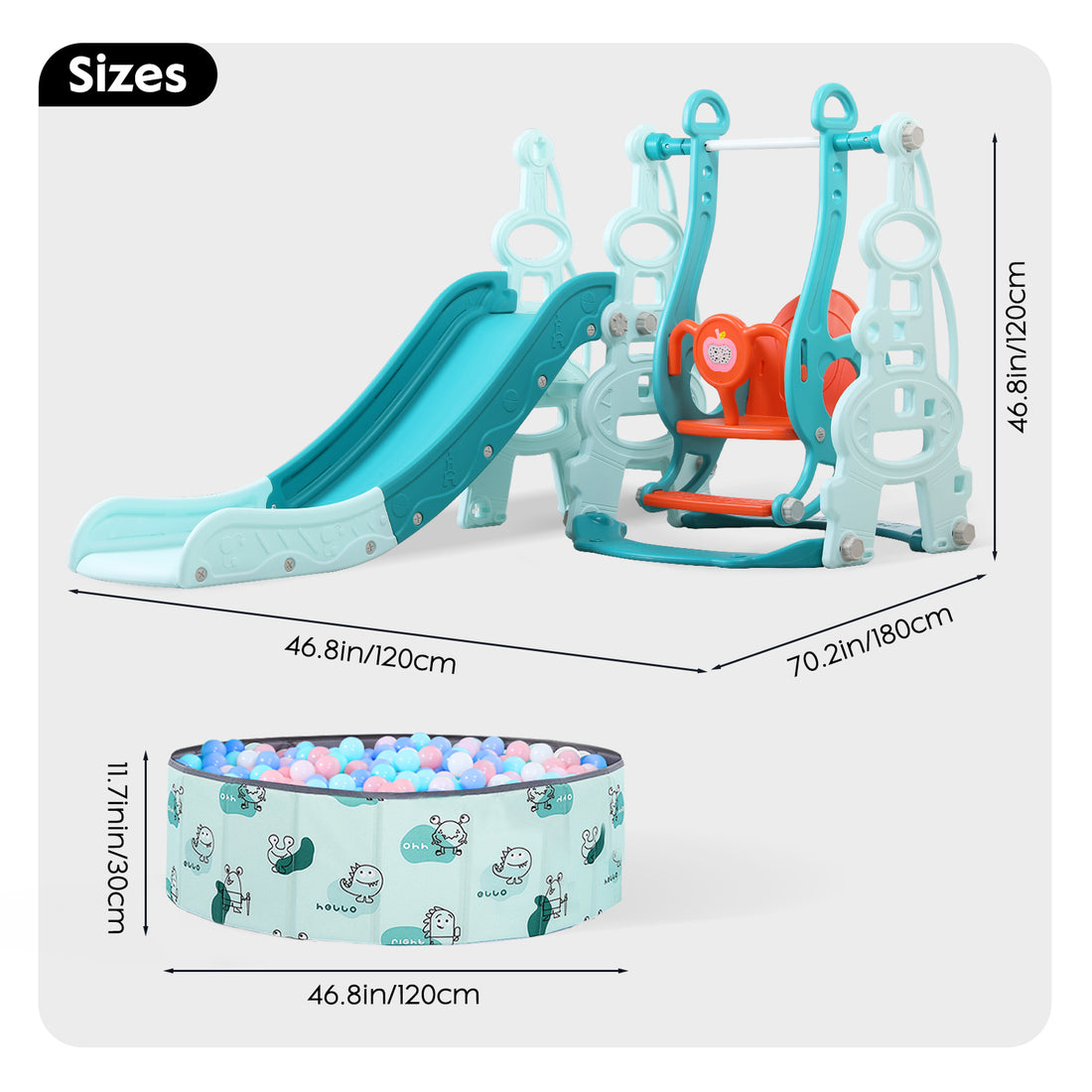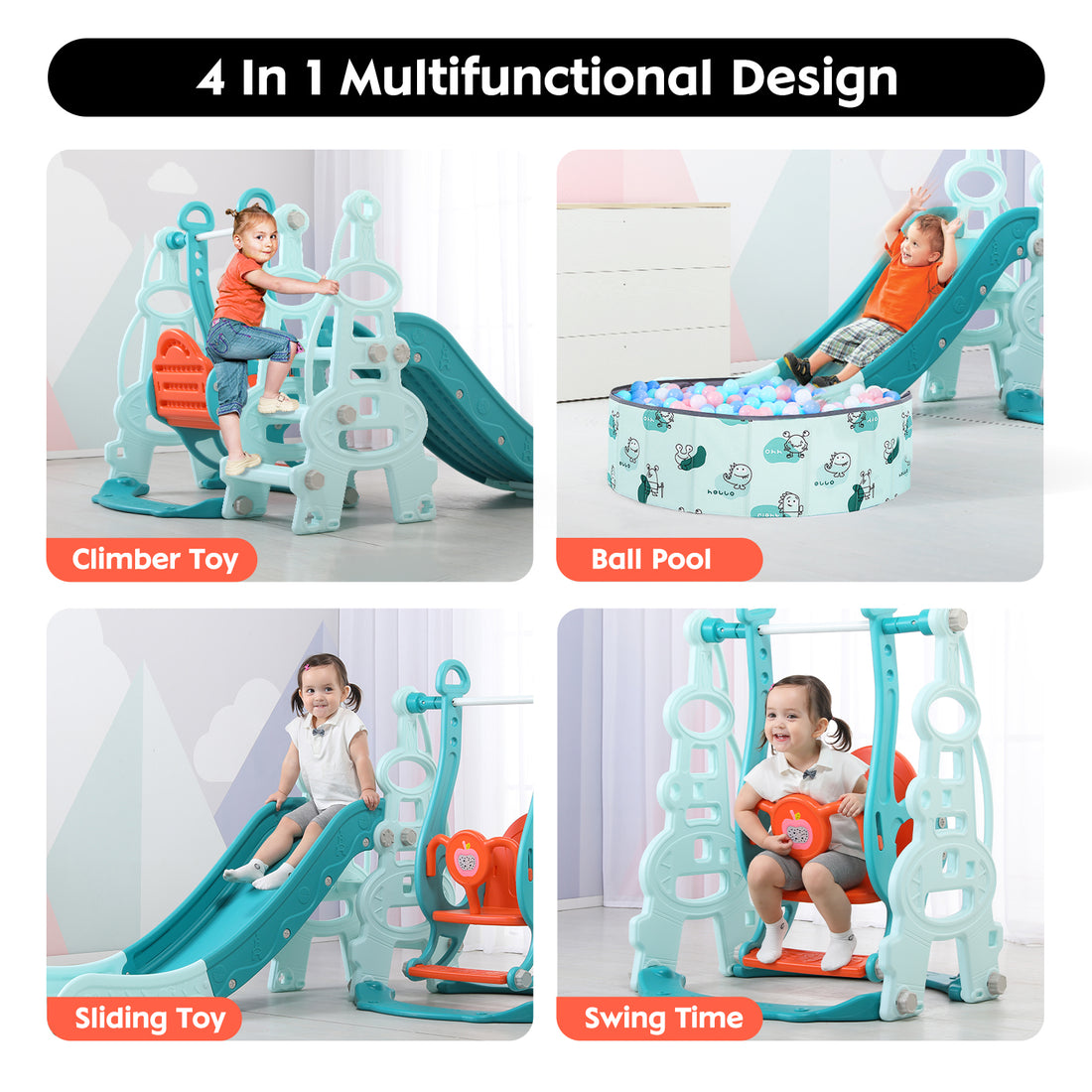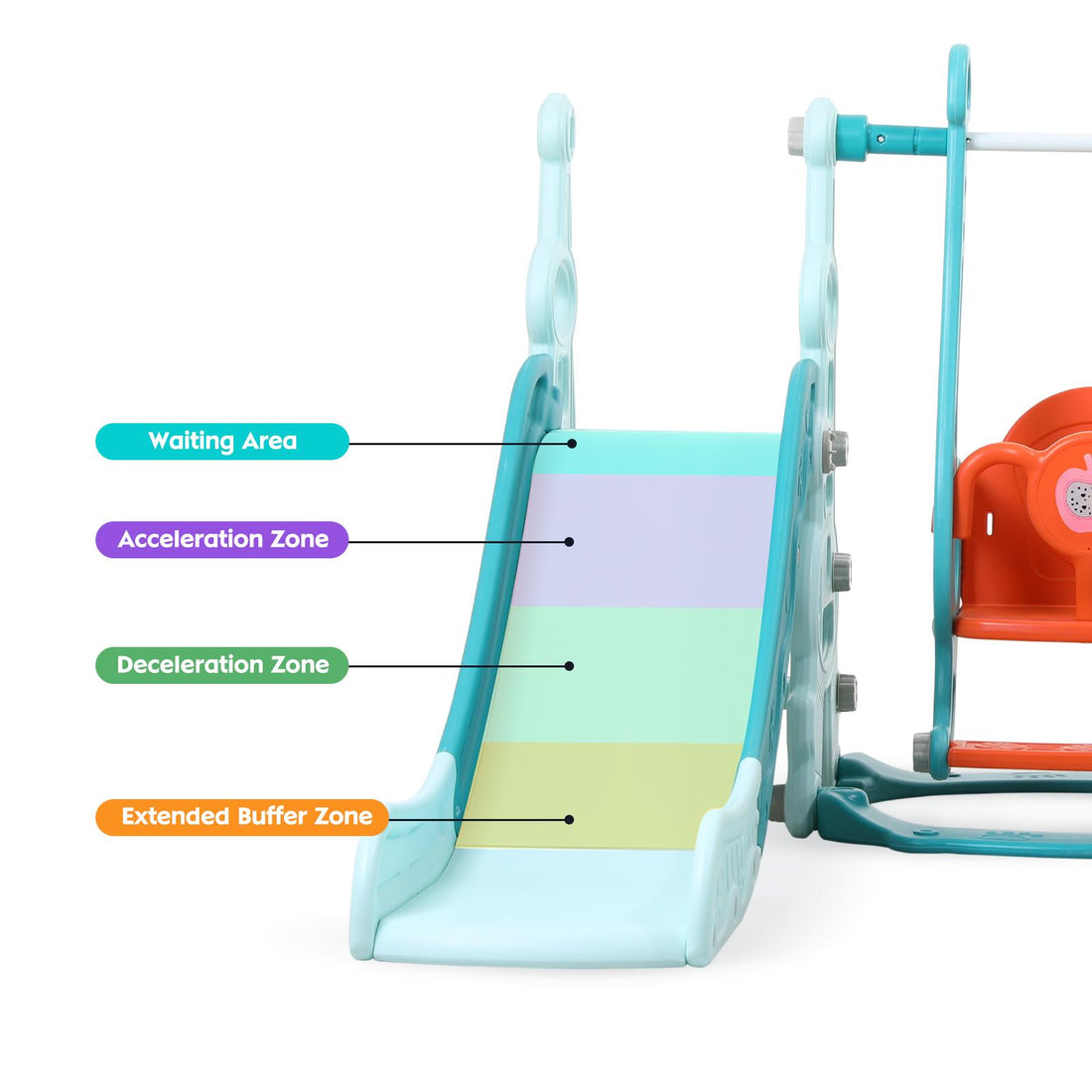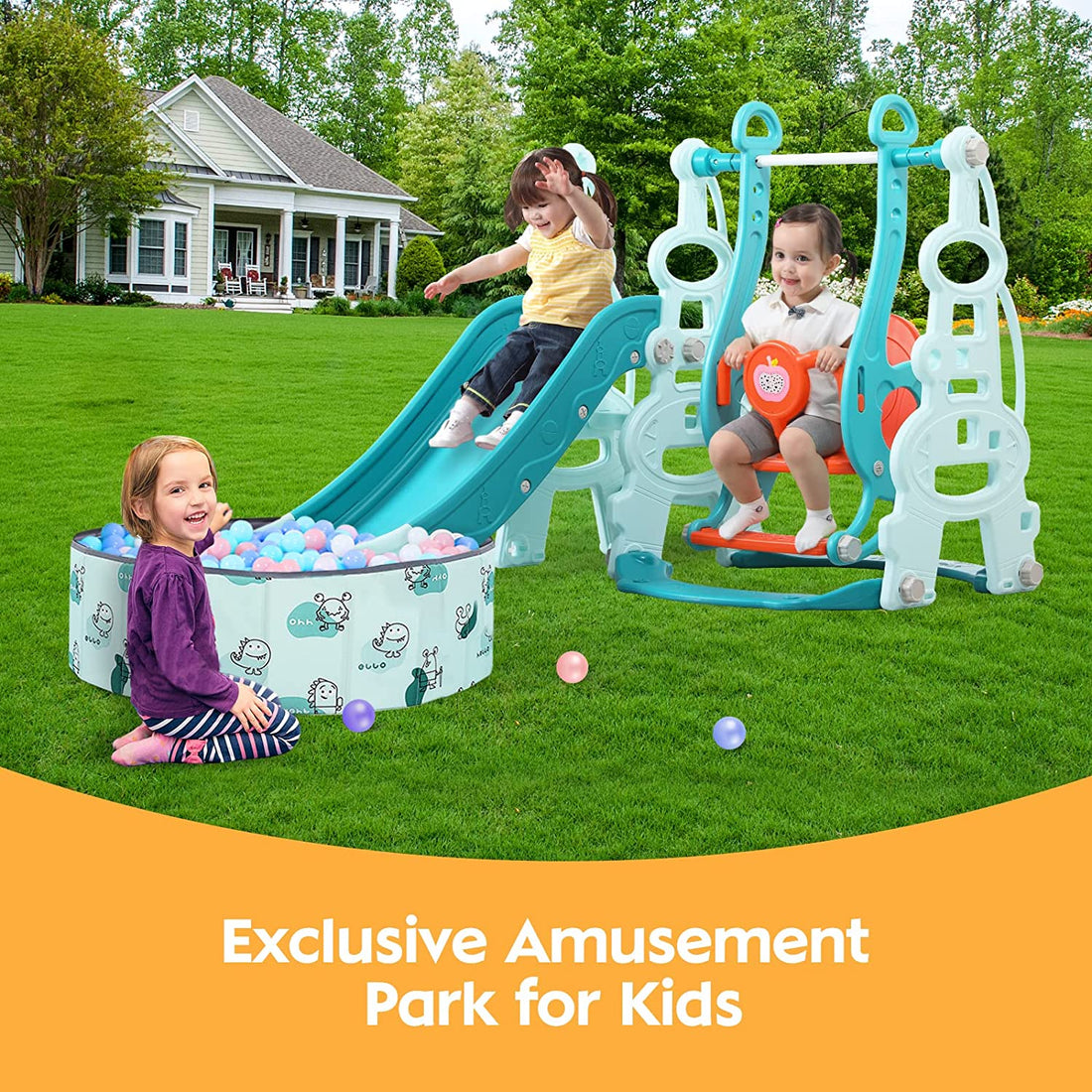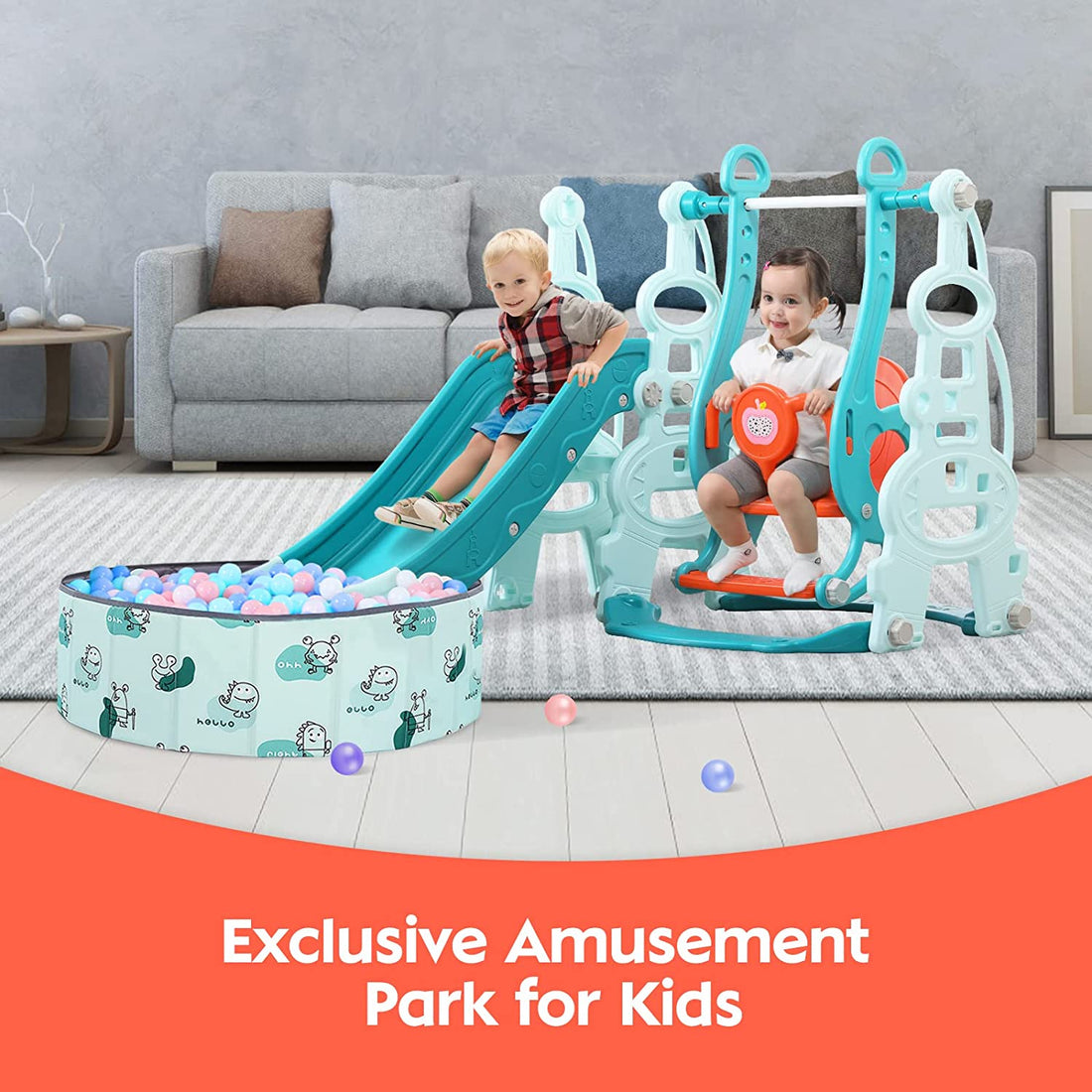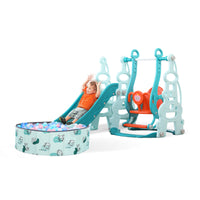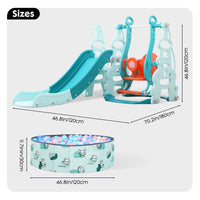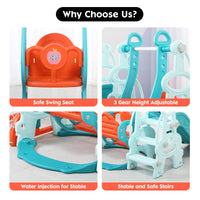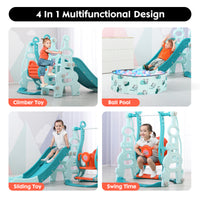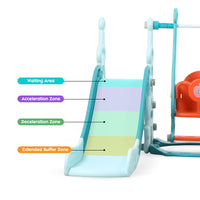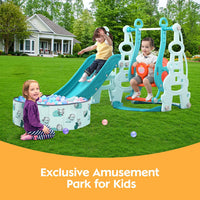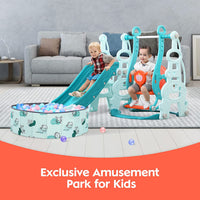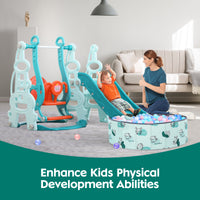 EALING BABY Slide and Swing 5-In-1 Play Set with Ball Pit - Baby Blue

The EALING BABY 5-IN-1 swing and slide kit is designed with a fun and versatile exterior to attract children's attention and keep them entertained for hours at a time. Created with durable and non-toxic HDPE, a gentle slide slope, easy-to-crawl steps, and a seamless connection, parents can rest assured that their children will enjoy themselves with a safe and fun playhouse. The 5-in-1 indoor play set features a smooth slide, a sturdy swing, a non-slip climber, a foldable ball pool, and 200 balls, perfect for indoor and outdoor use. Designed with an adjustable height and a maximum capacity of 110 lb., the kids' outdoor play set is appropriately sized for growing toddlers. Use this swing set to teach your toddler healthy exercise habits, improve their sense of curiosity, and develop their muscles and brains, all while having fun!

5-IN-1 MULTIFUNCTIONAL PLAY SET: The EALING BABY 5-in-1 toddler play set includes a smooth toddler slide, a non-slip toddler climber, a sturdy toddler swing, a foldable ball pit, and 200 balls, perfect for indoor and outdoor family enjoyment. The playhouse is designed for toddlers of 3+ years to enjoy hours of developmental fun that can help improve their coordination and expand their sense of adventure.
SAFE AND DURABLE FOR KIDS: This EALING BABY swing and slide set is made with toxin-free and resistant HDPE material, a sturdy frame with a capacity of 110 lb., and ergonomic armrests to keep your child from losing grip or slipping.Designed for secure and constant use, the toddler play set meets ASTM and CPSIA standards so your child can enjoy safe playtime.
SMOOTH SLIDE & ADJUSTABLE SWING: The kid slide has a gentle slope and easy-to-climb steps so your children can experience smooth sliding. The entire toddler play set is connected seamlessly, without protruding edges, to protect babies' tender skin. To ensure safe and enjoyable swinging, the indoor toddler swing features closed pedals that prevent the baby from getting stuck, strong hangers, a high-quality rope, an adjustable height, and a capacity of 66 lb.
FUN BALL PIT DESIGN:Created for customizable fun, this versatile baby slide is designed with a ball pool and 200 pc balls so that children can slip into the ball pool directly from the slide or enjoy the ball pool on its own. Set up the entire playhouse in your backyard for hours of outdoor fun or in your living room to entertain your children while you relax indoors!
EASY TO ASSEMBLE & CLEAN: The 5-in-1 toddler play set is user-friendly for a safe and quick installation! One person can install the indoor toddler swing in under 20 minutes and without any additional tools. Use serrated nuts to reinforce the toddler outdoor slide and to prevent loosening. Dust and stain resistant, the playhouse can easily be cleaned with a damp/wet rag.
Product Material: HDPE
The Slide & Swing Play set Assembling Size: 70.2" x 66.4" x 46.8"
The Toddle Slide Length: 59"
The Toddle Slide Maximum Weight: 110 lb.
The Toddle Swing Seat Maximum Weight: 66 lb.
Color: Blue and Green color
1 x Toddler Slide
1 x Swing Seat
1x Foldable Ball pit
200x Balls
1 x User Manual
1 x Parts Package
Check the dimensions carefully before purchasing.
Avoid direct exposure to sunlight.
Adult supervision is required for every use.
Check the structure regularly for continued stability.
Please message us if you have any issues or concerns, the solution will be provided within 24 hours