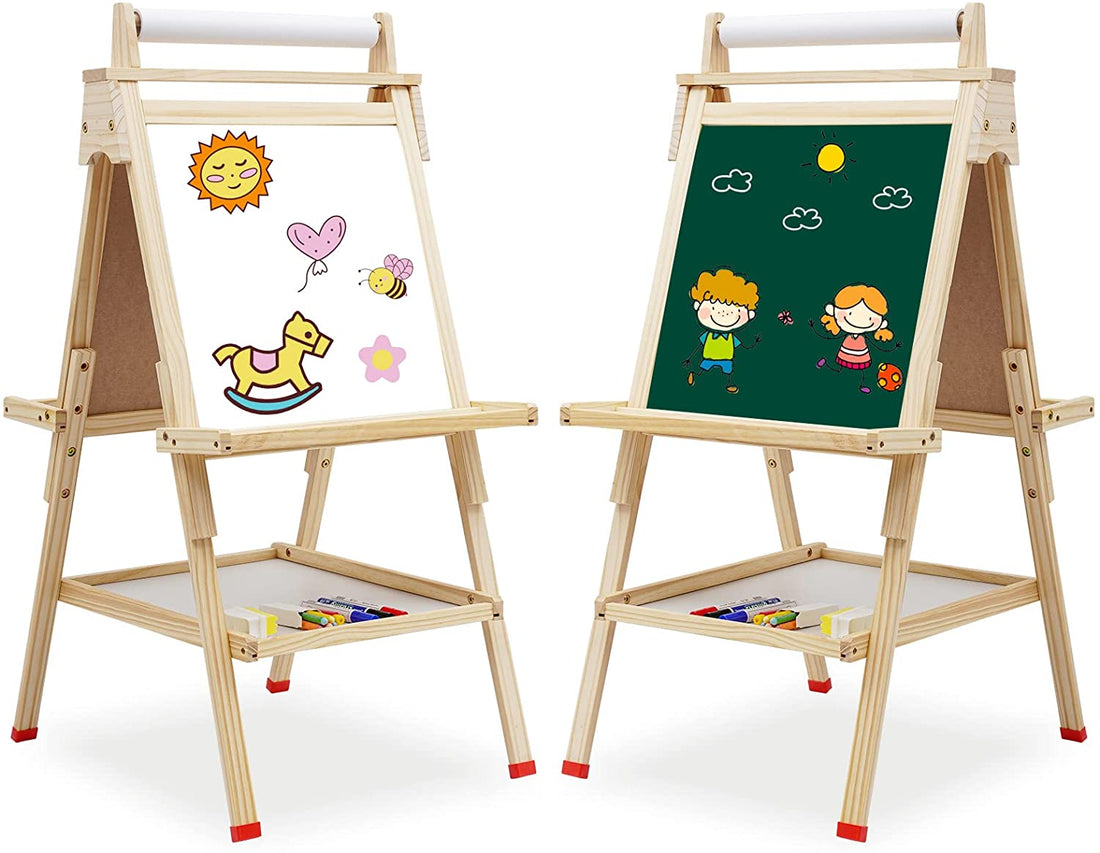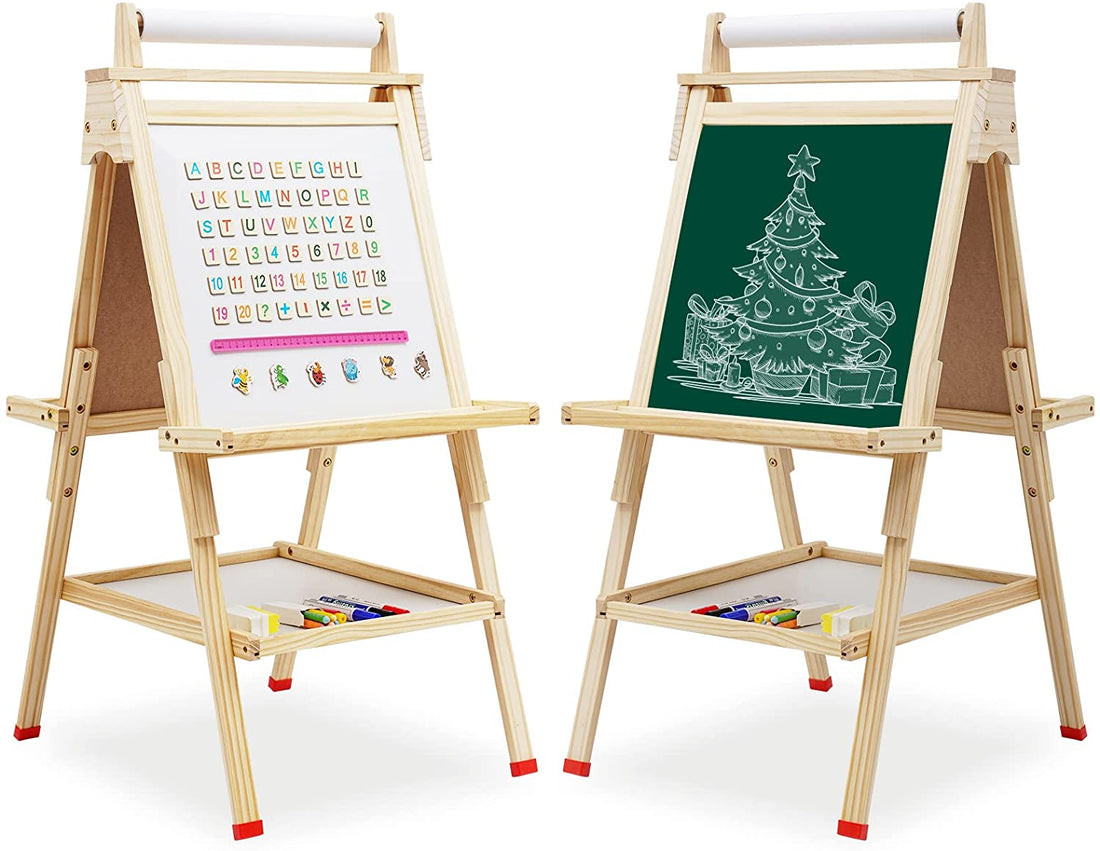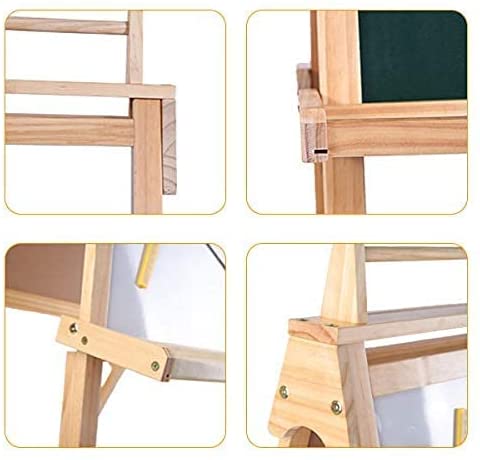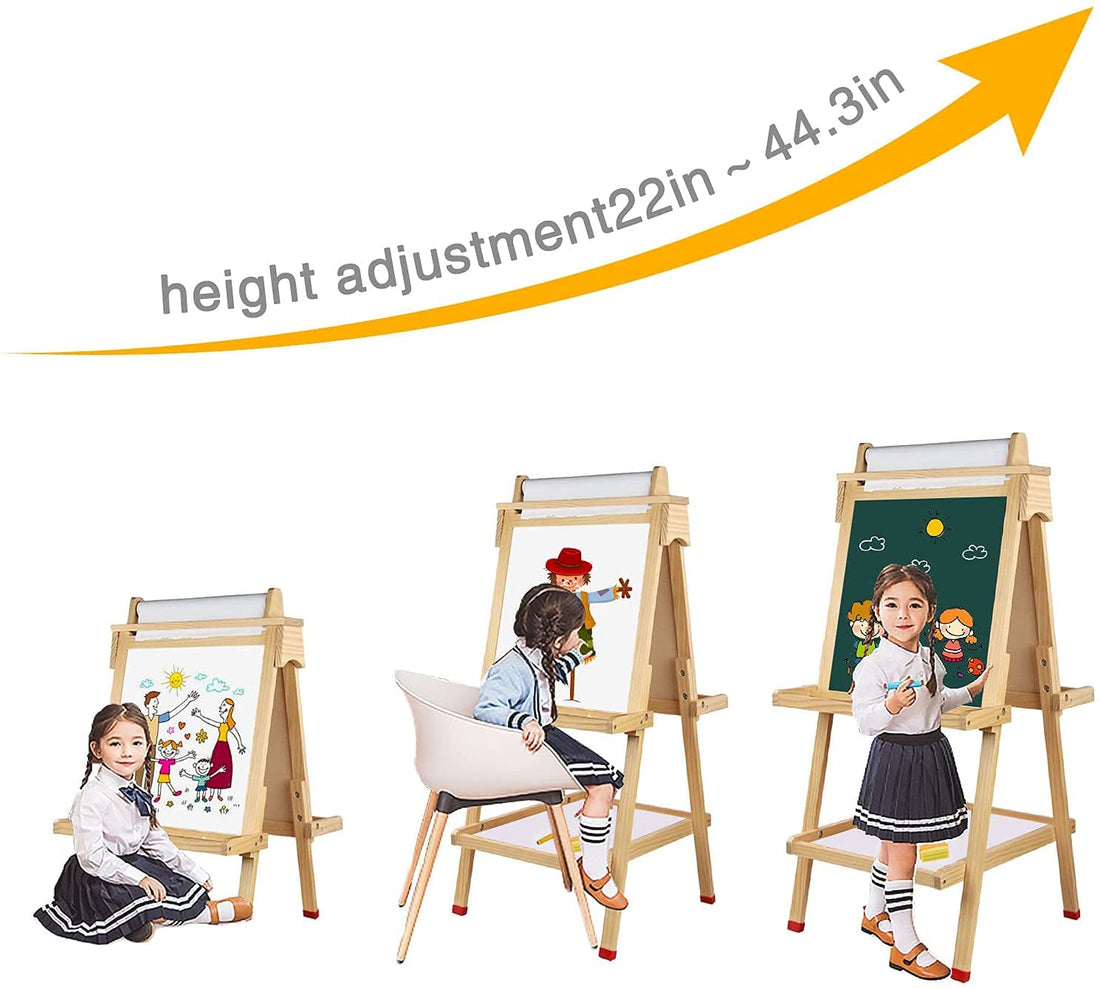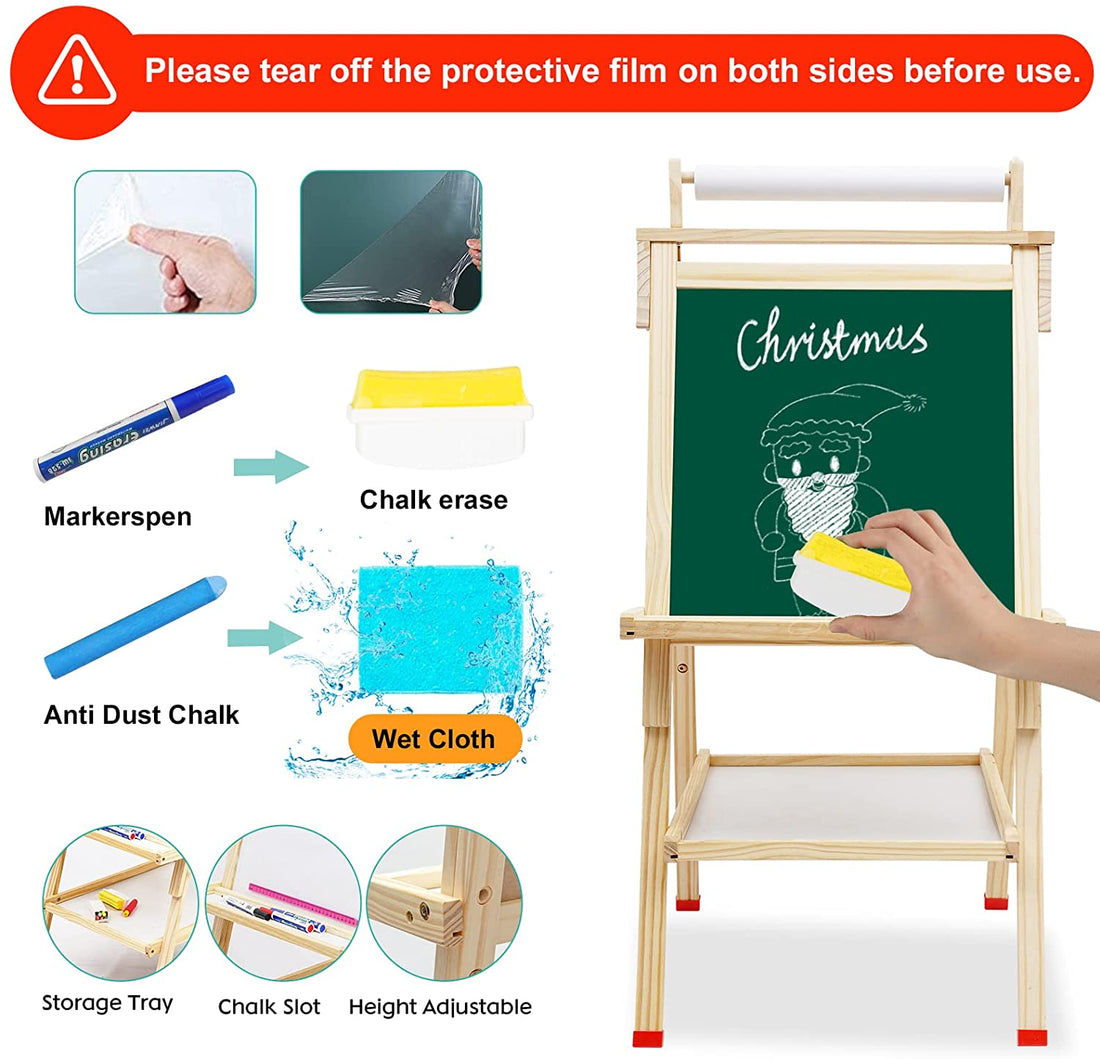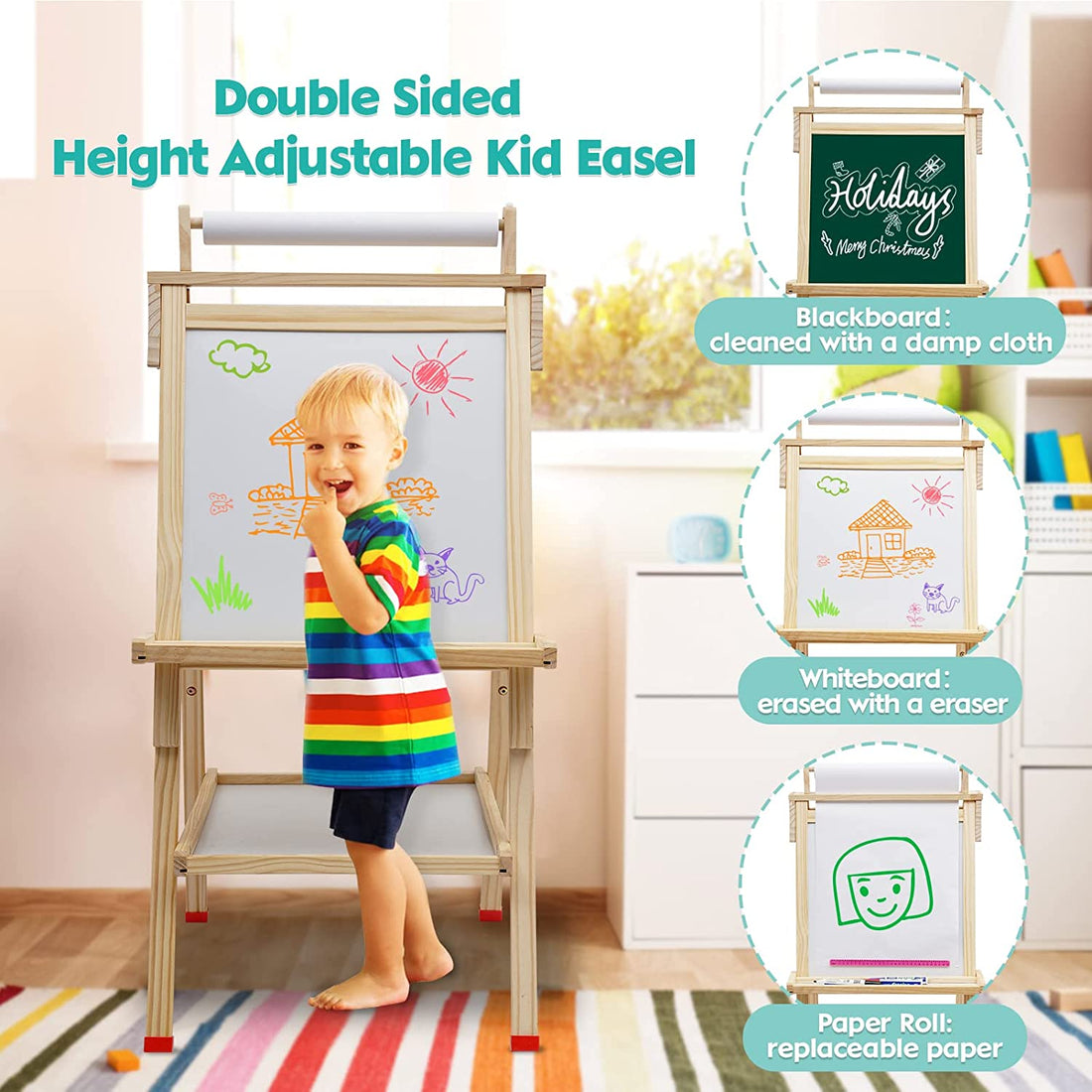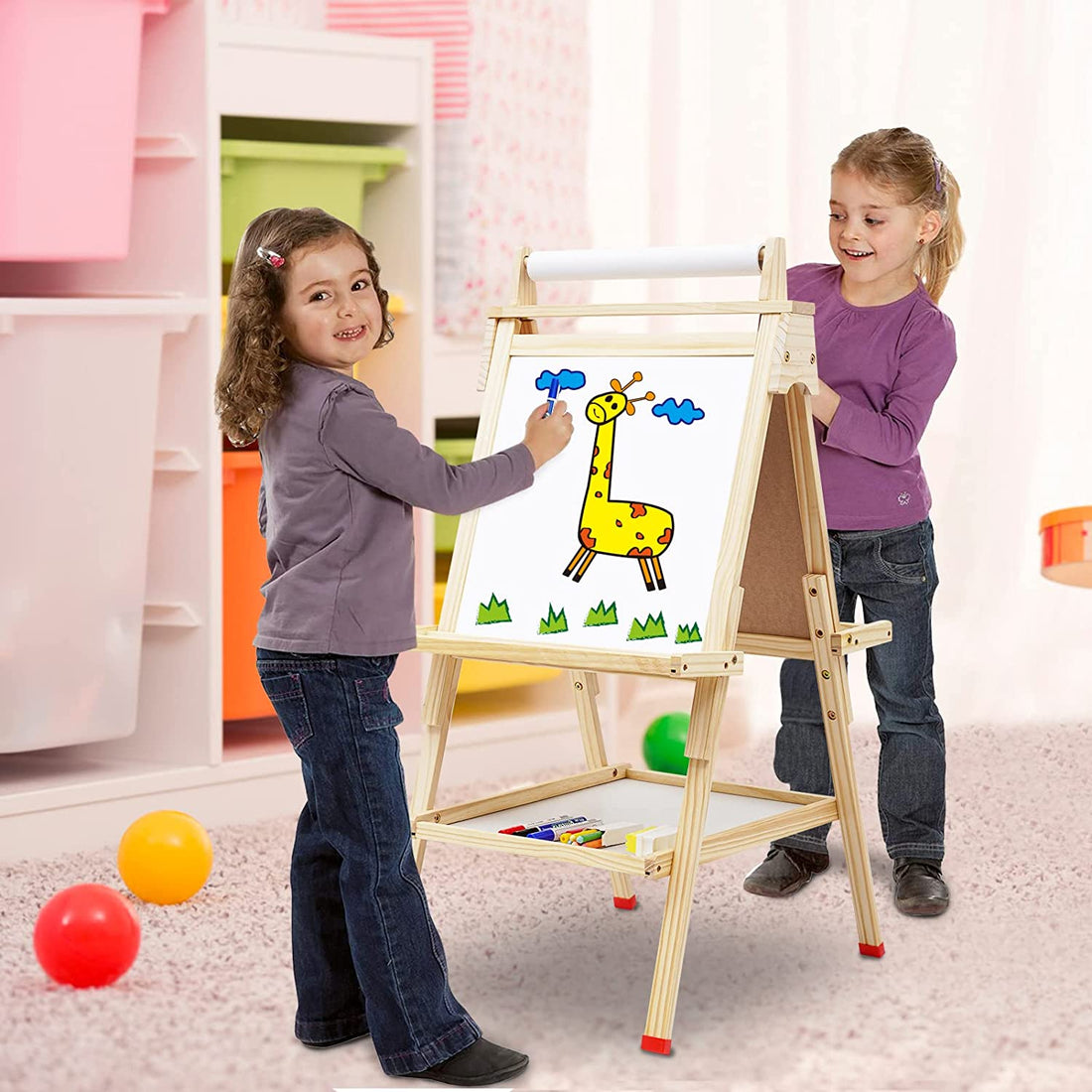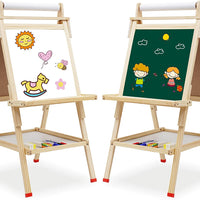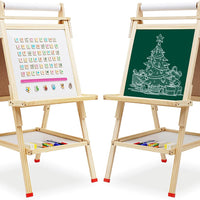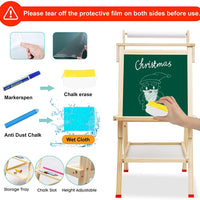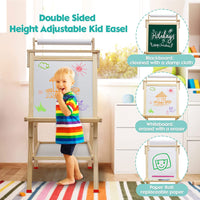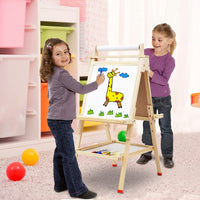 EALING BABY Art Easel - Wood Frame with Paper Roll - Natural Wood Color
The EALING BABY standing kids' easel features a dry-erase board and chalkboard, as well as included paper roll, giving your kids multiple platforms to extend their creativity. Your child can play with his/her friend to paint the chalkboard and whiteboard easel at the same time. These easels for kids come with 4 kinds of necessary kids art supplies such as markers, chalks, and magnets. The included storage trays and slots help to keep the kid art supplies organized. The adjustable height feature allows this kids art standing easel to grow with your kids. Kids can paint and write with our kids art set with easel to fully exert their imagination. The Our art easel for kids ages 3-8 is a good gift choice for your children!
3 IN 1 ART EASEL: One side of kids easel is a dry-erase board, the other side is a chalkboard and equipped with a paper roll on the top, providing more choice for your kid. Both sides of the art easel are magnetic, bringing more fun and learning with attached easel accessories including magnetic letters and numbers. This kids easel with paper roll can be used by several children at the same time. Bring hours and years of enjoyment for the children.

ABUNDANT EASEL ACCESSORIES INCLUDING MAGNETIC LETTERS AND NUMBERS – The double-sided art easel with multiple creative easel tools allow kids to stack different shapes, letters and numbers magnets to the board and learn. Chalks and markers also introduce different drawing techniques to kids.

ASTM-CERTIFIED WOOD MATERIAL AND CHILD SPECIFIC SCREWS - Our standing art easel is made from natural, beautifully crafted wood sanded smoothly with no burrs or sharp edges. This wooden easel for kids is child-safe and stable with toxin-free finishes. The EALING BABY kids art easel collections all complies with the CPSIA and ASTM certification standard. This easel for kids is equipped with child-specific screws and non-slip foot covers. Easel for kids ages 3-8 can be easily cleaned with a damp cloth or chalk erase that are both included in the easel accessories; and equipped with an A-shape design, which will be more stable.

STABLE A-FRAME DESIGN AND STYLISH NEUTRAL COLOR – The EALING BABY toddler art easel has a stable A-frame design that builds to last. The Neutral wood color fits in all kinds of interior design that's unique to your home. The sleek design with your kids art could add an artistic touch to your stylish home accent as well! The wooden storage trays and slots are easy to clean and kept tidy.

ADJUSTABLE HEIGHT THAT GROWS WITH KIDS - The floor standing easels height can be adjusted from 22 to 44.3 inches, as the kids grow to meet different height needs, delivering years of use. Children art easel can be folded for storage or taken to a road trip out into the nature to sketch. It's a fun activity child easel that's a great tool for children and toddlers to learn how to paint, draw, write, sketch, and more!

WIDE APPLICATIONS FOR PLAYROOM AND PRE-SCHOOL CLASSROOM - Wooden material with a light color theme of children's easel goes well with most classrooms, kindergartens, playrooms, and families. Easel kids can be used as a teaching board, drawing board, graffiti board, and message board, and can stimulate children's imagination and creativity. This Art easel also allows children to have better extra-curricular activities.

WARNING CHOKING HAZARD - Contains small parts. Not suitable for children under 3 years.
Chalkboard And Whiteboard Size (WxH): 17.6'' x 16.5''

Storage Tray Size (LxW): 15.2'' x 19.9''

Assembled Art Easel Height Range: 22" – 44.3"

Assembled Art Easel Weight: 11.23 pounds

Product Packaging Dimension: 29.5'' L x 22.7'' W x 4.3'' H

Age Suggested : 3-9 years old
1 x Wooden Frames Double Side Board Assembling Set - Erasable Chalkboard & Magnetic Whiteboard

1 x Assembling Kit

1 x Art Storage Tray

1 x Paper Roll

1 x Kids Art Set : 3 x Marker Pens (Blue, Red, Black), 6 x Chalks, 1 x 18-Inch Refillable Art Paper Roll, 60 Pcs of Magnetic Letters & Numbers, 1 Ruler, 1 Chalk Erase