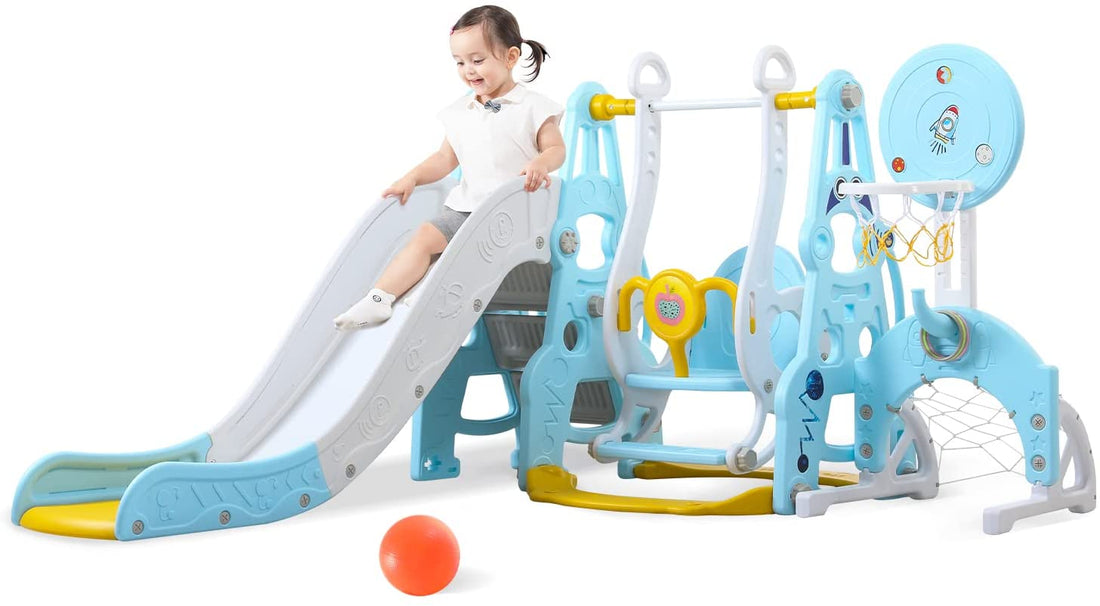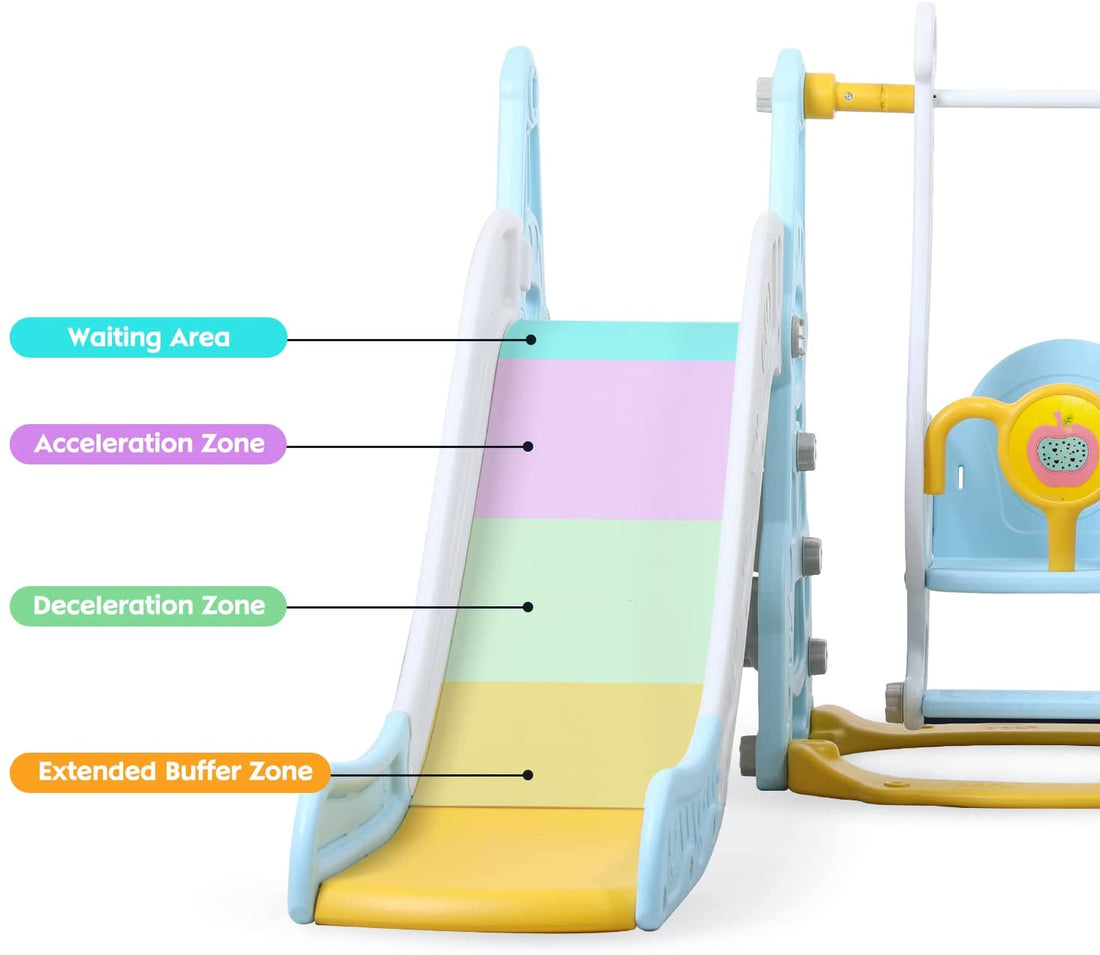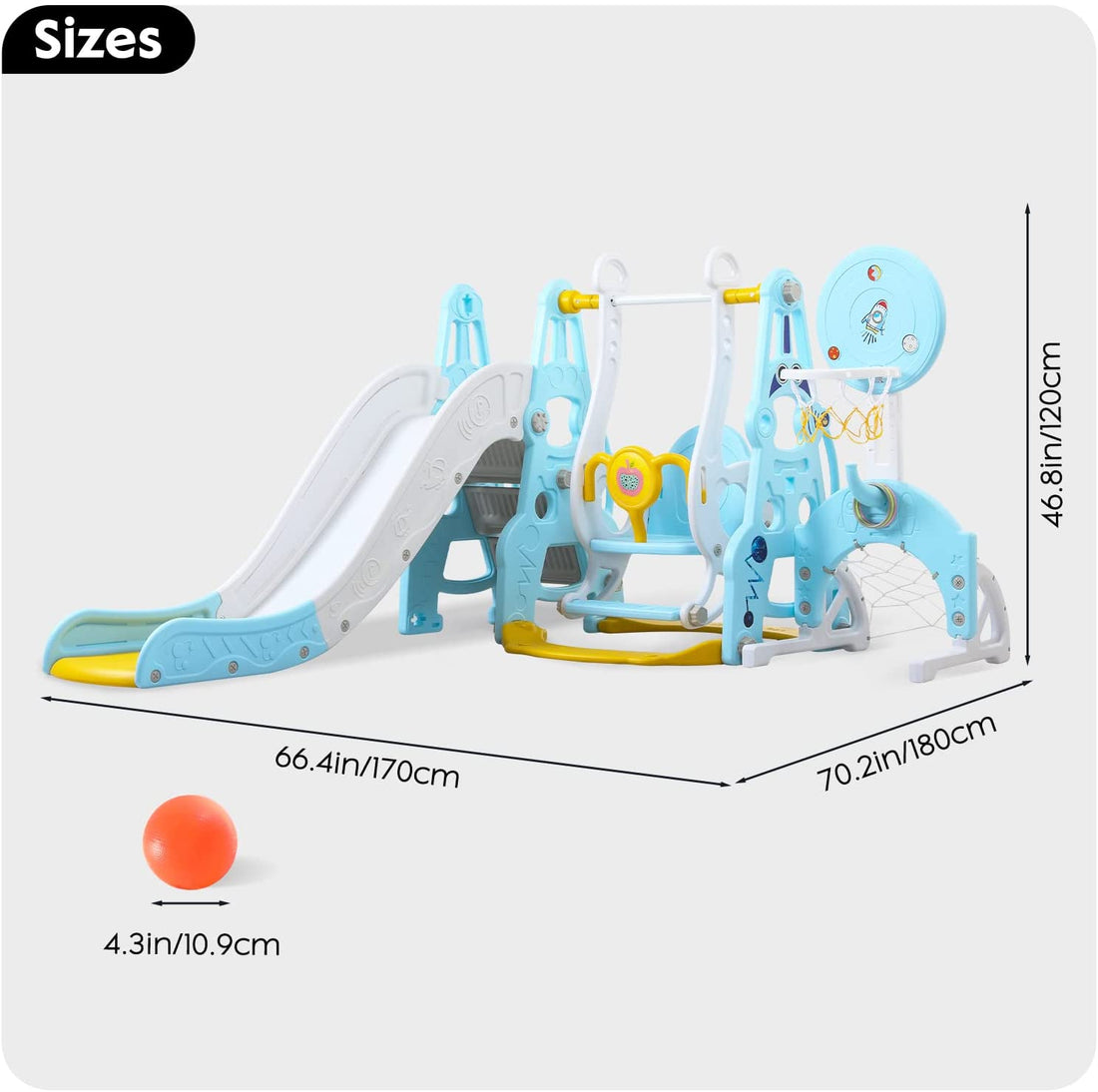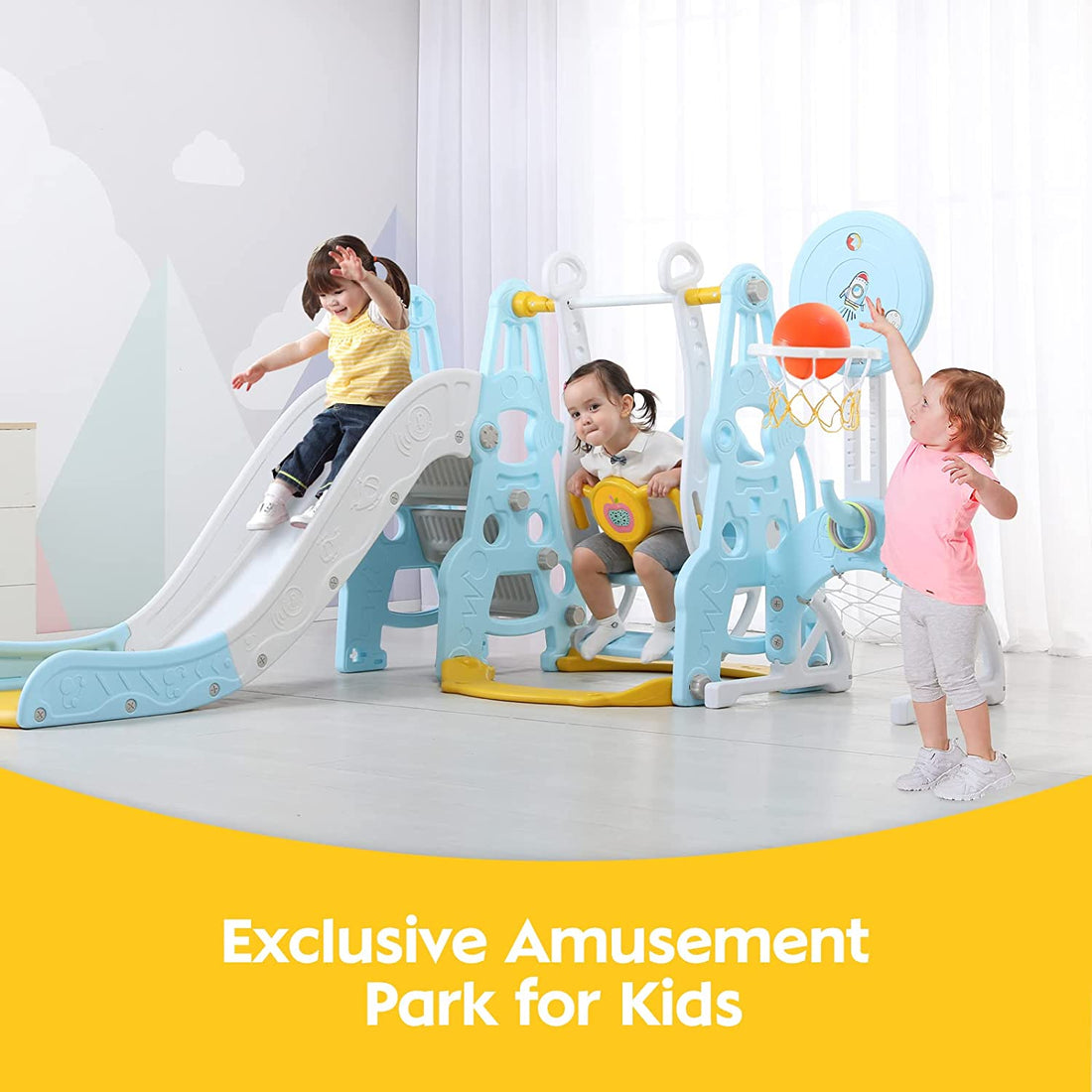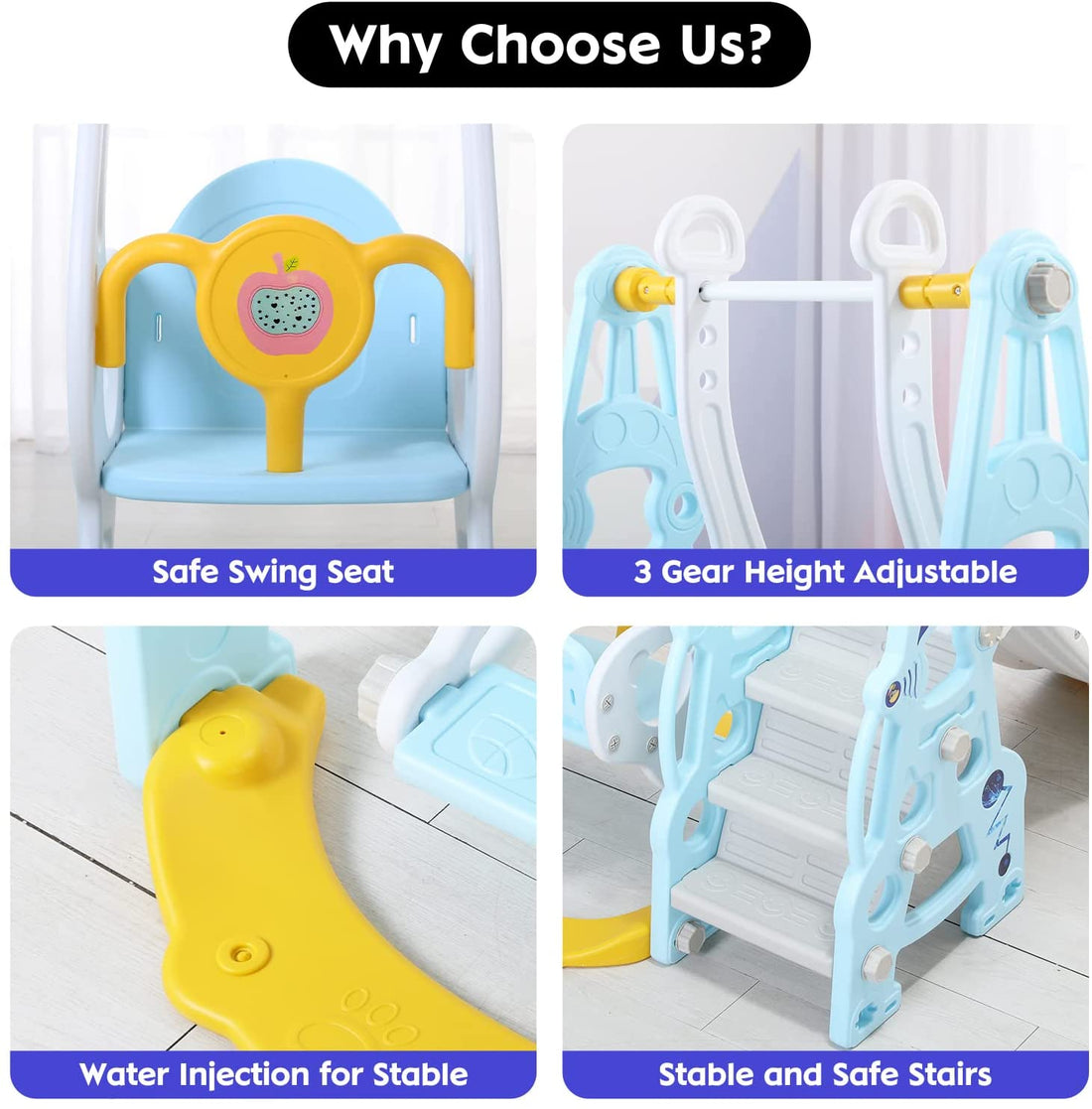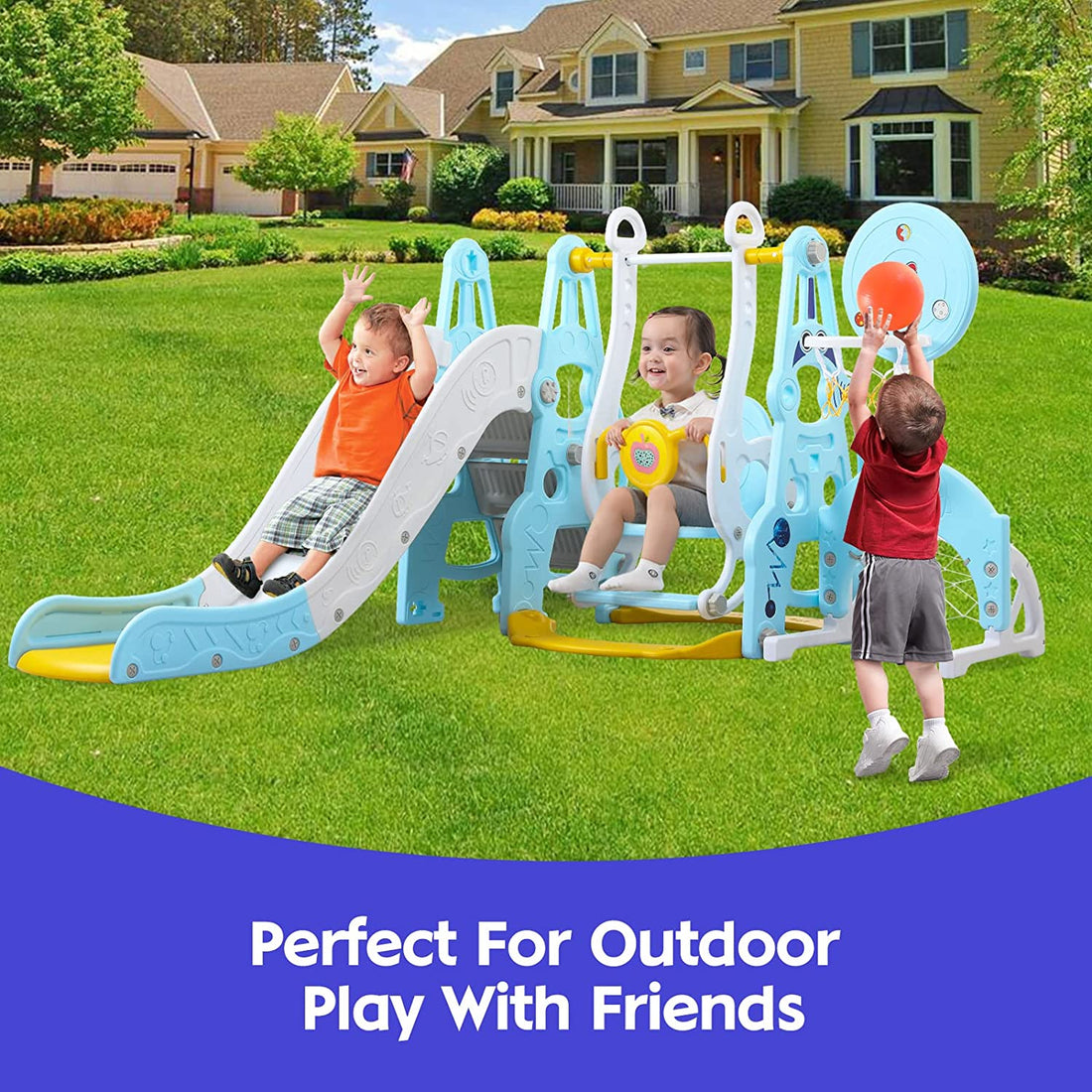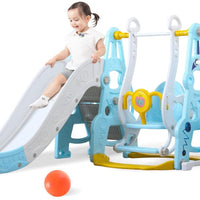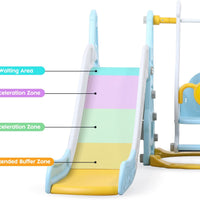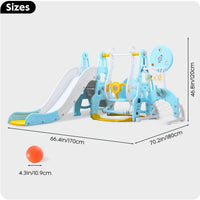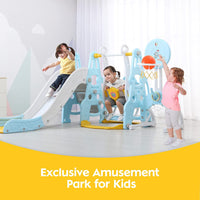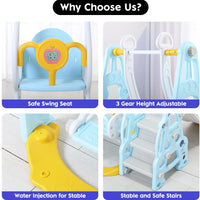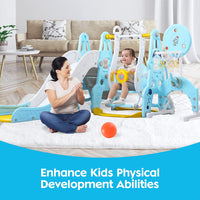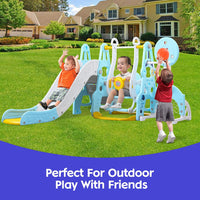 EALING BABY Slide and Swing 6-In-1 Playset with Basketball Hoop Soccer - Baby Blue
The EALING BABY 6-in-1indoor and outdoor backyard play set is designed for your child to enjoy hours of adventurous fun from the comfort of your home. It features a slide for kids, an indoor baby swing, a kids' indoor basketball hoop, an indoor soccer goal, and a toddler climbing ladder in bright colors perfect for both boys and girls and any room décor. Designed with safety in mind, the kid slide has a gentle slope, acceleration zone, deceleration zone, and buffer zone for smooth and secure sliding. The kids' indoor swing features a wide seat and a T-shaped seatbelt so your child can enjoy safes winging. Made of non-toxic and durable HDPE material, this toddler swing and slide set is an investment that will deliver years of long-lasting fun. Quick and easy to assemble, your little athletes can start playing in less than 20 minutes. This toddler play set helps children practice coordination and develop exercise skills all while enjoying themselves, making it the perfect gift for holidays and birthdays! 
6-IN-1 SLIDE AND SWING PLAY SET–The 6-in-1 blue toddler play set is equipped with a smooth toddler slide, a sturdy baby swing, a versatile baby basketball hoop, a fun soccer goal, a safe toddler climber, and a ball, making it the perfect play set for your family to enjoy both indoors and outdoors. This multi-functional play set will allow your family to experience the fun of an amusement park from the comfort and convenience of your home.

SMOOTH SLIDE AND SAFE SWING -The indoor slide has a gentle slope and easy-to-climb steps to offer children weighing 110 lb. or less a smooth slide. The entire playhouse is connected seamlessly, without sharp edges, making it safe for babies' tender skin. The toddler swing set is built with strong hangers, premium rope, and resistant built-in seatbelts to securely hold a maximum of 66 lb.

VERSATILE SPORTS FUN-The toddler play set is designed with an American/European style indoor basketball hoop for kids so that your little athlete can practice their coordination, develop exercise habits, and fall in love with sports. The indoor swing basketball hoop set doubles as a baby climber, with unique steps that allow children to enjoy safe rock climbing.

SAFE AND DURABLE-The 6-in-1 indoor play set is perfect for your children to enjoy safe and durable fun. Created with resistant and non-toxic HDPE materials, the toddler play set is made to withstand constant wear and use. The inside basketball hoop for kids conveniently allows you to adjust the height so your child can enjoy it as they grow and develop.

EASY TO INSTALL AND CLEAN-Enjoy a quick installation and simple maintenance! A single person can assemble and reinforce the toddler slide swing set with serrated nuts in under 20 minutes and without using any additional tools. To clean the slide and swing set for toddlers, simply wipe it down with a damp/wet rag. The kids' play set is lightweight so you can easily store it away when you want to save space.
Product Material: HDPE

The Slide &Swing Play set Assembling Size: 70.2" x 66.4" x 46.8"

The Toddle Slide Length: 59"

The Toddle Slide Maximum Weight: 110 lb.

The Toddle Swing Seat Maximum Weight:66 lb.

Color: BlueColor 
1 x Toddler Slide

1 x Swing Seat

1x Basketball Hoop

1 x Ball

1 x User Manual

1 x Parts Package 
Check the dimension carefully before purchasing.

Avoid direct exposure to sunlight.

Adult supervision is required for every use.

Check the structure regularly for continued stability.

Please message us if any issues or concerns, the solution will be provided within 24 hours